1.2L TGDI Gasoline Engine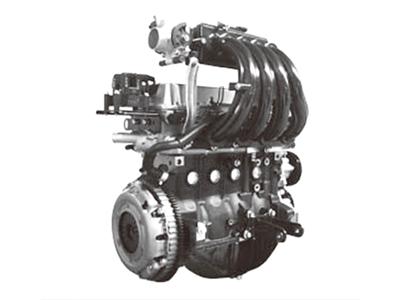 The 1.2L TGDI gasoline engine is designed using the state-of-the-art technologies including GDI, VVT and TCI technologies as well as variable displacement oil pump, electric thermostat and on-off water pump technologies, thus considerably reducing fuel consumption while ensuring great power performance.
This type ofgasoline engine is applied to most Chery vehicles. The fuel consumption can be further lowered if hybrid power can be achieved. Taking full advantage of GDI, VVT and TCI technologies, the turbocharged engine boasts greater power performance and lighter weight than that of 1.6L or larger displacement NA engine. This makes the match with car in terms of DOWN SIZE and DOWN SPEED come true.
Eight Shining Technologies of 1.2L TGDI Gasoline Engine
1. GDI
This three cylinder engine adopts GDI technology. That is, high pressure fuel system injects gasoline into the cylinder directly and precisely according to needed timing, which can reduce the temperature of mixture of air and gasoline. Higher compression ratio can be used to improved engine power performance and fuel efficiency as well as reduce emission.
2. TCI
TCI, turbo charge inter cooling technology, is utilized to improve intake air density, making this 1.2L turbo engine superior to 1.6L NA engine and lighter. In addition, it uses the turbocharger with low rotary inertia to increase engine responsiveness.
3. VVT
CHERY 1.2L TGDI gasoline engine boasts dual variable valves timing system which can accurately control air intake and exhaust by altering valve timing, thus improve performance and reduce pumping loss. Scavenging technique is applied and thereby power performance and fuel economy are improved while emission is reduced at all range of speed.
4. Variable Displacement Oil Pump
The Chery vehicle engine is provided with a variable displacement oil pump that will deliver enough engine oil to the place where lubrication is needed, hence reducing wear while improving fuel economy.
5. Electric Thermostat
Our1.2L TGDI gasoline engine is proud of an electric thermostat which can make the engine stay at the cost-optimal temperature in most cases and at safe temperature in high load operation.
6. On-off Water Pump
The usage of on-off water pump can execute optimal control to the flow or wear of the water pump, consequently improving fuel efficiency.
7. Balance Shaft System
Thanks to a balance shaft system, the special vibration resulted from three cylinder engine can be eliminated, providing more comfortable driving experience for the driver.
8. Dual Mass Flywheel
Owing to the usage of dual mass flywheel, vibration excited by the engine to the transmission can be cut off, thus ensuring better NVH performance.
Technical Parameters of 1.2L TGDI Gasoline Engine
| | |
| --- | --- |
| Code | F3J12 |
| Model | 1.2TGDI |
| Fuel | Gasoline |
| Type | L3, DOHC, 12 Valves, GDI, TCI, VVT, Cast Aluminium Cylinder Block |
| Displacement (L) | 1.198 |
| Bore × Stroke (mm) | 77×85.8 |
| Compression Ratio | 9.9 |
| Rated Power (kW/rpm) | 97/5000(132.0hp) |
| Max. Torque (Nm/rpm) | 212/1750 |
| Specific Power(kW/L) | 81.0 |
| Overall Dimensions L×W×H(mm) | 546×628×655 |
| Weight(kg) | 127 |
| Emission Standard | Euro V |