1.6L TGDI Gasoline Engine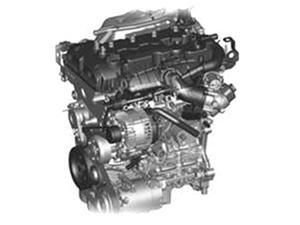 The 1.6L TGDI gasoline engine is a brand new ACTECOIII engine developed by CHERY using platform development and integrated and modular design concept. Due to advanced TCI and TGDI technology, the power performance, fuel economy and emission standard of this automobile engine have reached a top level in the industry. To be specific, the power per liter reaches 85kW/l and more; the torque per liter reaches 185Nm/l.
Six Shining Technologies
1. Gasoline Direct Injection (GDI)
Owing to GDI technology, the gasoline will be directly injected into the cylinders when the engine works. The mixture of gasoline and air can be formed in the cylinder. Super high injection pressure can considerably reduce the average diameter of fuel drop, ensuring thorough atomization and higher combustion efficiency.
In addition,due to GDI, the output torque of the 1.6L TGDI gasoline engine can reach the same level as a large displacement diesel engine, providing driver with excellent feeling when the car accelerates as well as low fuel consumption, low emission and comfortable NVH.
2. Turbo Charge Inter-Cooling (TCI)
TCI technology can greatly increase intake air density, thus optimizing combustion and improving power performance and fuel economy. Additionally, TCI technology can substantially improve power and torque of this internal combustion engine while increasing no displacement. Compared with the same displacement NA engine, engine performance is increased by about 40%. Then, low fuel consumption but large power can be enjoyed at the same time.
3. Dual Variable Valve Timing (DVVT) and Silent Chain
Employing the DVVT technology, the 1.6L TGDI gasoline engine can achieve optimization of performance and fuel consumption under every rotating speed and load. What silent chain brings are reliable transmission, great durability, small space usage and consistent tension. Furthermore, the silent chain is free from maintenance, thus great reducing cost for users.
4. High-pressure Casting Aluminum Alloy Cylinder Block
The DVVT engine is designed with cast aluminum alloy cylinders that come with ultra thin wall liners. Advanced high pressure casting process can reduce engine weight to the maximum extent while providing strength and NVH comfort. Therefore, you can not only feel the strong power but also enjoy the benefit of low fuel consumption.
5. Variable Displacement Oil Pump
The 1.6L TGDI gasoline engine is provided with a variable displacement oil pump. Controlled by ECU, this oil pump can offer low oil pressure at low speed and high oil pressure at high speed. The gasoline is supplied according to actual needs, maximally reducing energy consumption and further reducing fuel consumption.
6. Integrated, Modular and Lightweight Design for Components
The components of this four cylinder engine feature maximum integrated design including integrated design of plastic valve case cover and crankcase ventilation system, integrated design of oil pump, oil cooler and filter and integrated design of water pump, accessory holder and electric thermostat.
This design can effectively reduce engine's volume and weight, making it more compact and lighter and thereby achieve lower fuel consumption. The integrated and modular designs mentioned above have all experienced CAE simulation and bench test, thus ensuring high reliability.
Technical Parameters of 1.6L TGDI Gasoline Engine
| | |
| --- | --- |
| Code | F4J16 |
| Model | 1.6TGDI |
| Fuel | Gasoline |
| Type | L4, DOHC, 16 Valves, GDI, TCI, VVT, Cast Aluminium Cylinder Block |
| Displacement (L) | 1.598 |
| Bore × Stroke (mm) | 77×85.8 |
| Compression Ratio | 9.9 |
| Rated Power (kW/rpm) | 132/5000(179.6hp) |
| Max. Torque (Nm/rpm) | 285/1750 |
| Specific Power(kW/L) | 82.6 |
| Overall Dimensions L×W×H(mm) | 600×632×624 |
| Weight(kg) | 136 |
| Emission Standard | Euro V |