SQR372A Diesel Engine (46kw)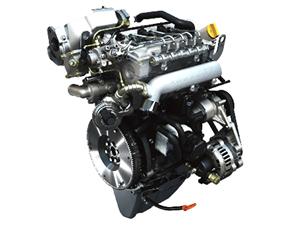 Engine displacement of diesel engine is 1.0 L, and the power is 46kW. When coupled with Chery's manual transmission, it could be installed on diverse mini vehicles.
1.0L displacement, transistor controlled ignition (TCI), slant type, inline 4-cylinder (type L4), double overhead camshaft (DOHC), 12 valves, common rail and exhaust gas recirculation (EGR) system.
External Characteristic Curve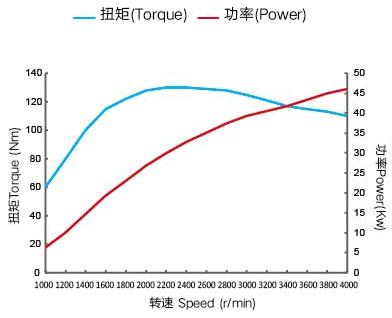 SQR372A 1.0 L TCI Diesel engine parameters
| | |
| --- | --- |
| Code | SQRE4G16 |
| Displacement (L) | 1.0L |
| Bore x Stroke (mm) | 72x81.8 |
| Compression Ratio | 17.5 |
| Rated Power (kW@r/min) | 46/3600 |
| Max Torque (N.m@r/min) | 125/2000 |
| Specific Power (kW/L) | 46.0 |
| Overall Dimension (mm) | 608 x 787 x 507 |
| Weight (kg) | 131 |
| Emission | Euro III |
72 series diesel engine's features
1. Advanced technologies
High pressure common rail fuel injection (HPCR1600bar)
Turbo compressor inlet (TCI)
Exhaust gas recirculation (EGR)
2. Integrated technologies
Integrated design for cooling and lubrication system
Integrated design for triton system
Integrated design for generator and vacuum pump
3. Technologies for components
High-precision car atomizer from Boshi
Auto-tensioner
Efficient air inlet
Aluminum alloy piston with internal cooling channel
4. Subsystem technologies
Gear train with single-or poly-rib belt
Timing chain system
Chain-driving oil pump
Double overhead camshaft (DOHC)
16 valves
72 series diesel engine could be installed on following vehicle
Self-allocated vehicle