The quality policy of CHERY is that customer satisfaction is our eternal purpose and providing Zero Defect product and considerate service is our unswerving objective. To ensure every engine is qualified, we implement extremely strict quality control.
Chery has established a complete set of quality control system, allowing a quality monitoring for introduced raw materials and the products.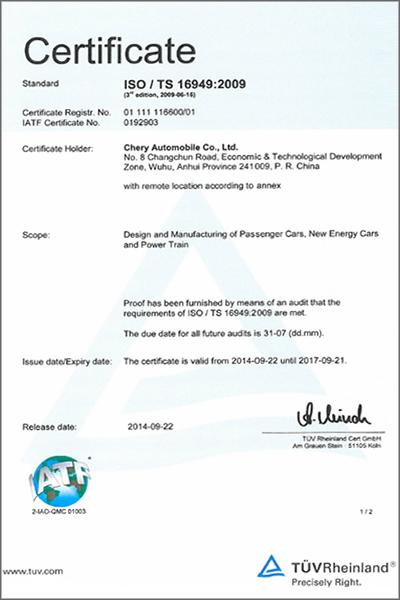 ISO/TS16949:2009
In 1999, Chery started to apply for the approval of ISO9001:1994 quality management system.
In 2001, Chery obtained the ISO9001:1994 certification (The first enterprise who passed the standards in China)
In 2002, Chery obtained the ISO/TS16949:1999 certification.
Chery passed the third recertification audit.
Chery passed the ninth surveillance audit.
During the past 13 years, quality management system runs smoothly and orderly.
Certificates
For example, FMS is utilized and we use a lot of robots on assembly line which will carry out fully automatic control to the process of frame disassembly, gluing, oil sealing and press fitting. Final test will be controlled by 100% cold test and hot test.
In order to assure the high quality in production process, Chery introduced diverse inspection instruments from the United State, Germany and etc. to test the performance of vehicle engines and transmissions.
For Engine
Pico impulse test stand with cold chamber (the United State)
ATW impulse test stand with cold chamber (the United State)
Yuanfu Impulse test stand with hot chamber (Shanghai, China)
MARPOSS online measurement equipment (Italy)
ADCOLE crankshaft/camshaft gage (the United State)
Carl Zeiss AG coordinate measuring machine (Germany)
---
For vehicle transmission
Meiden impulse test stand for transmission (Japan)
Gleason gear measuring center (the United State)
Carl Zeiss AG particle size analyzer (Germany)
MAHR optical measuring device (Germany)
MAHR roundness measuring instrument (Germany)