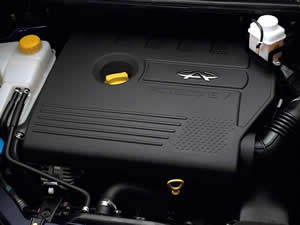 The ACTECO is not only a word but also a combination of three layer meanings. Now, let's get into the real world of "ACTECO".
The first layer meaning expresses the technology background of ACTECO engines. To illustrate, letter A refers to Austria AVL company and its birthplace—Anhui, China. The first C refers to CHERY in China and the last two letters of CO means cooperation. Therefore, the first layer meaning is obvious that ACTECO engine is the crystal by the cooperation of AVL and CHERY.
The second layer meaning is mainly about the product design philosophy and performance. "TEC" in the middle of ACTECO refers to Technology; "ECO" means both Economic and Eco-friendly; "CO" is also short for Cost. Thus, the second meaning of ACTECO is that this engine, developed by means of the world first class technologies, integrates economy and eco-friendliness and helps to reducing economic cost (low fuel consumption) and social cost (low emission).
The third layer meaning is concentrated upon the letter A, expressing CHERY's business philosophy and desire for No. 1(A) in automobile industry. In addition, the first three letter "ACT" means CHERY's commitment and manner. No matter how controversial, our actions will speak for ourselves.