Chery Automobile CO., Ltd. is founded in 1997, which is mainly engaged in the research, manufacture and marketing of vehicle, engine and transmission products. Chery engine products include gasoline, diesel and flexible fuel engines. The displacement range is from 0.6L to 2.0L and the power range is from 24kw to 115kw. Chery transmission products cover MT/AT/CVT and the torque range is from 90Nm to 250Nm. Chery powertrains are widely used in many applications, such as automobiles, general aviation, off-road vehicles, generators and so on.

Here are factory galleries for manufacturing engine and transmission products
First plant for engine manufacturing
477 Series Gasoline Engine

Second plant for engine manufacturing
484 Series Gasoline Engine

Third plant for engine manufacturing
371 Series / E Series Gasoline Engine

Ruiqing Power (Jiaozuo, Henan)
72 Series / E Series Gasoline Engine

Ruilong Automotive (Ordos, Inner Mongolia)
477 Series / 4AT Series Gasoline Engine
First plant for transmission manufacturing
Manual Transmission
Second plant for transmission manufacturing
Continuously Variable Transmission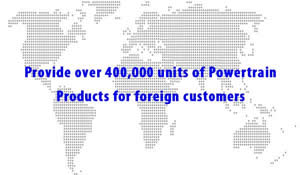 Chery powertrain not only has been exported with its vehicles to more than 80 countries and regions all over the world, but also individually exported to the United States, Japan, Russia, Germany and other countries, including many fortune 500 companies.